June Aja - Vocalist/Lyricist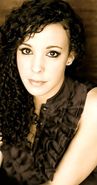 Raised in the heart of Alabama, June Aja has had music in her heart since the early age of three years old. Noted for being a "mix between Lauryn Hill and Pink," June Aja grew up in the gospel choir and began opera training at the age of thirteen. Although she played violin for five years, she had to make the decision of which path to take upon being accepted into a preparatory fine arts high school for both voice and violin. Choosing voice lead her to classical training in which she received scholarship to five accredited national universities, including Pepperdine University, where she attended for opera. After graduation and many songwriting sessions, June Aja realized her true calling was within mainstream music; therefore, hanging her hat from classical music for the time being.
   At Pepperdine University, she was the lead singer as Queen of the Night in "The Magic Flute," and performed in multiple showcases and competitions receiving several awards and honors. She has performed her original music at a majority of staple music venues in Los Angeles including House of Blueson Sunset, The Mint, Viper Room, The Whiskey A Go-Go and The Other Door.  She is a regular lead singer with the Ladd McIntosh Swing Orchestra and recently contributed to the recording of their Christmas in Swingtime album. She retains a devoted following on YouTube as fans send her monthly acapella requests to perform her rendition of popular songs by Whitney Houston, John Legend, Etta James, and more. Her passion is to help change the world through music. June Aja is very driven and is now pursuing a career in mainstream music, both as a singer and songwriter with full force. 
Join the Ear Monsterz Mailing List
•Ear Monsterz proudly presents "Sober". Our long-awaited full album was released on 27-July-2017. See our main page for more information. This album is available on iTunes and other fine music retailers.
•"Ear Monsterz" is proud to announce that 4 of our songs will were featured in the Hollywood action movie / DocuDrama, "Mobster"... In fact, we are in charge of the entire Movie Soundtrack and Score. Now you know why Ninef and Emil have been so incognito... 
• "Sober " by "Ear Monsterz" was just reviewed by ExposedVocals.com and has gotten Raving Remarks... check it out here... ExposedVocals.com
• Also, here is our Interview that was conducted by "ExposedVocals.com