Ninef "Musicman" Arsanos - Musician/Producer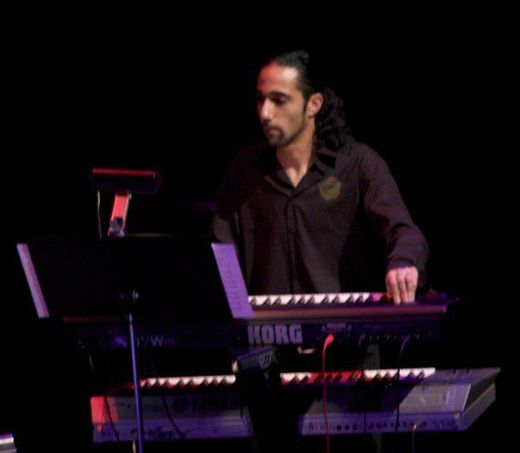 At age five Ninef was introduced to his first instrument, the violin. For years, under a heavily disciplined private Russian music instructor, he found the passion for music to be inseparable from his daily routine. At the age of nine, he was introduced to a keyboard. His ability to drive musical emotions into people's soul would start to develop. At 13, he travelled to Canada and by age 16 had started touring countries throughout Europe. Though he was regularly performing on stages across the nation and throughout the world, his artistic creativity didn't begin until the age of 18, where he worked with various Middle Eastern artists.
Ninef then went on to attend California State University Stanislaus, where he studied Music Composition, as well as Music and Computer Technology. Knowing technology would play a big role in music, he emphasized more of his attention in production. Together with the great compositional skills of Dr. Deborah Kavasch and Geoffrey Mulder's technological expertise, Ninef felt that his diversity in music in combination with classical and 21st Century Compositional techniques with technological advancement, would make his music quite unique. He is more commonly known today for being a diversified and an international Musician/Producer.
While attending University, he maintained his performances and spent years working in production with hip hop artists throughout Northern California. As the evolution of music began with the help of electronics, he started his focus on working mainly in commercial production. He finished his studies in 2006 and moved to the City of Los Angeles, where he began immediately working with game companies offering his services in composing jingles and original scores.
Today, Ninef still performs and is currently in collaboration with Emil 'DJ E.B.BAD' Bebla and together they have formed the group 'Ear Monsterz'. Together they are producing electronic music filled with hot dance singles featuring various vocalists such as Hip Hop Artist, G'Cue; Persian/English Vocal Sensation, Farshid Amin; and Star Vocalist, Cassandra Reed.
Ninef is also pursuing his acting career and has had roles in blockbuster movies such as Argo, and is currently working on his first major role in the Brian Eric Johnson movie: "MOBSTER". He is also responsible for the Scoring and Music Supervision of this movie. MOBSTER is expected to hit the theaters in the 2nd Quarter of 2013.
Please visit http://www.facebook.com/MusicmanPro
Also, you can find Ninef on IMDB at:  http://www.imdb.com/name/nm5416414/?ref_=fn_al_nm_1
Join the Ear Monsterz Mailing List
•Ear Monsterz proudly presents "Sober". Our long-awaited full album was released on 27-July-2017. See our main page for more information. This album is available on iTunes and other fine music retailers.
•"Ear Monsterz" is proud to announce that 4 of our songs will were featured in the Hollywood action movie / DocuDrama, "Mobster"... In fact, we are in charge of the entire Movie Soundtrack and Score. Now you know why Ninef and Emil have been so incognito... 
• "Sober " by "Ear Monsterz" was just reviewed by ExposedVocals.com and has gotten Raving Remarks... check it out here... ExposedVocals.com
• Also, here is our Interview that was conducted by "ExposedVocals.com